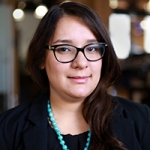 Katzumi Arteaga was born and raised in Mexico City, and moved to Canada 2 years ago.
Has a degree in International Relations from the Universidad del Valle de Mexico, in Mexico City. She holds an advanced diploma in International Trade and a Post-Secondary Diploma in Project Management from Fleming College in Canada.
Katsumi is a specialist in trade logistics and trade management.
Fluent in English and Spanish.