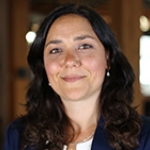 As a Logistics Coordinator for Compound One Pharmaceuticals Inc. (C1Rx), Laura ensures flawless communication and logistics between C1Rx, its suppliers and its clients.
Laura has graduated from one of the most prominent business colleges in Buenos Aires, Argentina, holding a degree in Hospitality Management and has worked with major international hotel chains and travel agencies holding positions in operations and sales departments.
Fluent in English and Spanish, Laura shares a passion for customer Service and operational efficiency.