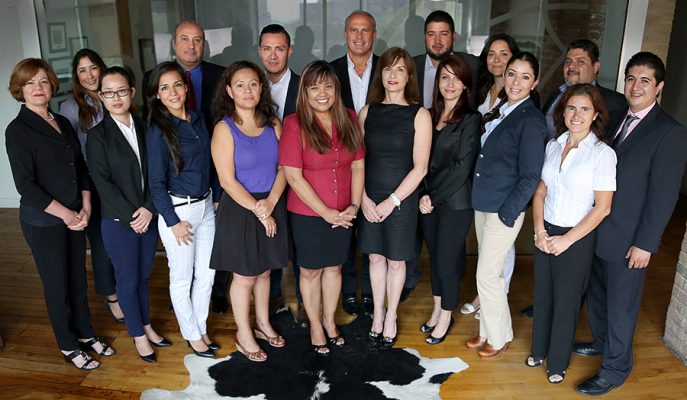 Some of the Canadian office staff
Founded in 1992, Bassett & Walker International, Inc. (BWI) is a global leader in the procurement of agricultural commodities. BWI specializes in the international trade of a variety of proteins for the use in the food processing industries. These proteins include meat, dairy, fish, and vegetable protein products, and their respective derivatives. We act as principal buyer and seller of these goods, thus maintaining and controlling quality, competitive pricing, and in-contract delivery fulfillment. BWI has more than 180 combined years of experience servicing a global clientele in more than 55 countries. Due to the global nature and scope of our around-the-clock activities, BWI is recognized as a market maker for many of these products.
The professionals at BWI travel hundreds of thousands of miles annually to visit client facilities on every continent of the globe. We have a vested interest in understanding each client's needs as well as discussing opportunities face to face to ensure that maximum value is created.
BWI delivers multiple value propositions to primary producers and processors in the food sectors by providing each with custom-tailored solutions to address specific requirements including:
Up-to-date market intelligence,
Liquidity to the marketplace,
Various financing and currency options, and
High-level product fulfillment and service.
BWI provides full service, in-house, logistical support using proprietary, web-based technology that provides seamless delivery fulfillment ensuring that clients' production schedules are met wherever they are located. Clients have recognized BWI's technology as best in class for our ability to deliver real-time account information including shipment tracking. BWI supports this technology with a dedicated specialist for any questions clients may have.
BWI delivers high-quality, cost-effective solutions to the global producing and processing communities, enabling each to focus on their respective core competencies and maximize their capital investments.
From the fields of the Pampas in Argentina to the metropolis of Beijing, China, BWI speaks the language of our clients. BWI personnel travel hundreds of thousands of miles each year to visit clients in more than 55 countries to understand their processes and requirements and to seek the opportunities that lead to value creation.We manage the risks associated with international trade and ensure competitive pricing with the goodwill that is essential for long-term relationships.
BWI seeks out market opportunities where they do not exist and uses extensive relationships with the highest levels of government to try to overcome market access issues to allow the creation of value for our clients.