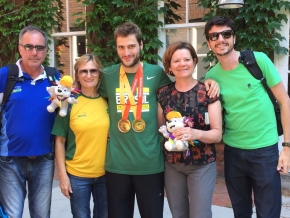 Recently my family and I received a phone call from old school friends in my Brazilian home town. They were coming to Canada to cheer for their youngest son Luiz Filipe Guarnieri Manara, an athlete with the Brazilian Table Tennis Team participating at the 2015 Toronto Parapan American Games.
Over the past two weeks we were lucky enough to share the family's excitement, both about the experience of visiting Canada and also having their son compete at such a high level. And what a spectacular outcome for our home town hero: two gold medals!
With the Olympic Village located near BWI's office, it was even more exciting for us to follow every step of Luiz's success. The BWI team had the honor to welcome the proud family and congratulate the gold medalist in person for his amazing achievement. It was a memorable day for everyone.